17 – 19 June 2022
Stones and their Landscapes – A prehistoric Journey into Anglesey, North Wales
Description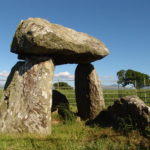 We are proposing a short field trip for a small group of people to the Isle of Anglesey, North Wales to visit some of the most outstanding prehistoric sites in the British Isles.  Anglesey (Welsh: Ynys Môn) has around 20 extant stone-chamber burial monuments that date from the Neolithic.  Despite antiquarian 'investigations' during the 18th and 19th centuries, a number of these monuments have been excavated using modern scientific methods, revealing evidence of a complex ritualised past.  This part of Wales can also boast a rich assemblage of engraved prehistoric rock art and unspoilt landscapes. 
The field trip will comprise visits to mainly Neolithic and Bronze Age stone-chambered sites.  We will be staying at the Gwesty Gadlys Hotel**** , located within the northern part of the island.  A hearty breakfast will be served at the hotel and fine evening meals (ca. £12 – 15) are available at their restaurant.  All you must do is enjoy the stunning archaeology, take-in the beautiful scenery and sample the fine Welsh cuisine.   
Other Details
Accommodation
Gwesty Gadlys Hotel**** is located within the northern part of the island close to the beach.
Course Cost
£333 inclusive of tuition, accommodation and breakfast. All sites are free to visit.
Single Accommodation Supplement
£99 for a double room at single-use.
Travel
Please make your own way to the Gwesty Gadlys Hotel, Llanbadrig, Cemaes Bay, LL67 0LH
Local Transport
If there are enough private cars available, we could use them to get around. 
Group Size
Ca. 10 people
Tutor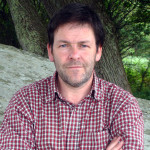 Dr George Nash is a specialist in contemporary and prehistoric art and is currently an Associate Professor at IPT (Tomar), Coimbra University, Portugal.  Over the past 30 years George has undertaken many field projects around the world including research in Chile, Israel, Norway and Sardinia, resulting in the publication of many papers and books.  George is currently involved in research of a number of cave sites in South Wales.  George also has an extensive knowledge of the later prehistoric archaeology of Anglesey, having excavated several major sites on the island since 2012.  
Related OU Courses 
General interest and Prehistory 
Itinerary / Study Programme
Day 1 Friday 17 June 2022
Friday afternoon meet and greet lecture followed by hearty debate and food!
Day 2 Saturday 18 June 2022
Visit the sites of Barclodiad y Gawres and the monuments that surround it.  On Saturday we will indulge in afternoon tea at Plas Newydd (National Trust) followed by a visit to sites along the Menai Straights (Bryn Celli Ddu, Bryn yr Hen Bobl and Plas Newydd), and a visit to Perthi Duon where George undertook a three-year excavation project uncovering the secrets of lost dolmen.
Day 3 Sunday 19 June 2022
Visit to Trefignath and associated standing stones, plus a visit to Neolithic sites around Benllech (east coast) such as Lligwy and Pant y Saer.
Note: All sites are accessible but stout walking boots are needed.  
This itinerary and study programme is provisional and may be subject to change in response to local conditions